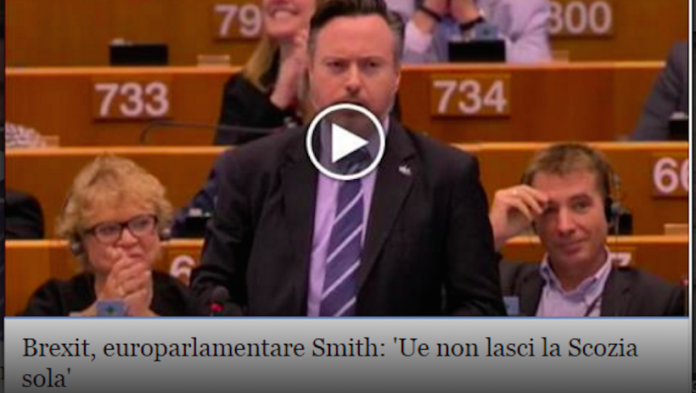 "Please don't leave Scotland alone", that is the call Mr Alyn Smith, a MEP made to the EU as a whole. "The place of Scotland is in the EU" declared Mrs Nicola Sturgeon, the Scottish Premier, after the majority of her people voted to remain in the EU.
The talk in our city nowadays is all about how Milan should aspire to replace London; and that is precisely why we should act now and ask for a twinning between Edinburgh and Milan.
Besides being tipically Milanese in nature, such a gesture would make our history.
Here are 5 reasons why our Mayor should act towards a twinning between Milan and Edinburgh
#1 Florence is not enough
A twinning between cities is a symbolic link between two cities, iself established in order to develop stronger political, economic and cultural relationships between them. Edinburgh is currently twinned with Florence. Adding Milan as one of Edinburgh's sister cities would juxtapose the cultural proximity Florence symbolizes to the international and economic affinity Milan would prompt.
#2 Awesome marketing
Mayor Sala constantly reminds us all that Milan should do more to promote itself on the international milieu. This is an opportunity to make the most out of: moving to help the scottish people now would reverberate all over the world, while showing Milan as it should be: a beacon for freedom and civil rights.
#3 A warning towards Rome
Although they have constantly stressed their autonomy from central powers and authorities, the Scots have kept their fealty to the British Crown: they fought for it and contribute to the power of the United Kingdom as a whole. Furtermore, the ancients Scots were the only people who ever resisted the Roman Empire. They are proud and loyal and now they would like to go their separate way from London, not for an independentist spur of the moment, but rather because they feel betrayed by the rest of the country. And now, the UK wants to uproot Scotland from its natural habitat, the EU.
By the same token, Milan has always been loyal to the government in Rome and it was, perhaps, the city having given the gratest contribution to the creation of an Italian unitary State.
Therefore, siding with the Scots now would be a warning towards Rome. Should the Italian capital city overstep its political boundaries, going against the will and freedom of the Milanese people, Milan may beg to differ.
#4 Daring to do more: extending our citizenship
Times such as those we are living in call for more courageous actions than a simple twinning between cities. Milan should go further. For example, it might bestow its honorary citizenship on all Scots. That would be a very meaningful gesture: if the rest of your country wants to uproot you from the EU, we'll make you all Milanese, so that you can stay in.
#5 Milan as the true capital city of Europe
In a moment such as the one we are in, when confusion seems to grip Europe, Milan may very well become the voice of all those EU citizens intending to open their arms to the Scots fleeing London. Should it be able to quickly make such a meaningful action a reality, Milan may turn into the actual capital city of Europe. A capital city built on higher politics, on culture, on the brotherhood between peoples, on the freedom fron nation-States, as well as on the right every individual has to choose his or her fate.
A historical move
All of this could happen easily. It would be enough to persuade our Mayor to board a flight to Edinburgh in order to meet Mr. Donald Wilson, his Scottish homologue. Investing just 80 euros for an airplane ticket, Milan could write an important page in the future of Europe, followed by a kilt party outside Palazzo Marino.
In 2019, Mayor Giuseppe Sala twinned Milan with Edinburgh. He was the first to give the Scottish people a helping hand (Excerpt from a 2119 history book).
ANDREA ZOPPOLATO
Translated by Antonio Enrico Buonocore
Qui l'articolo in Italiano: Milano faccia qualcosa per la Scozia: gemelliamoci con Edimburgo